NEWS & NOTICES
2023 Crack Filling Bid Information
10th Annual Chicken BBQ - Saturday June 10, 2023
Thank you to the 6th grade Girl Scout Troop #10433 and the 2nd grade Girl Scout Troop #17032 bringing Girl Scout Cookies to the North Prairie Police Department. Officer Tim had a wonderful time visiting with you all!
Waukesha County Emgergency Managment Newsletter
No Mow May Information -
The Village Board of North Prairie supports this idea but is in no way making this a directive. Those that participate will not be subject to fines during the month of May.
Click Here
Household Hazardous Waste Collection Information Letter
Waukesha Co. Household Hazardous Waste Collection Sites
Waukesha Co. Hazardous Waste Collection Holiday Schedule
---
CLICK ON BOOKLET COVER TO CONNECT TO GUIDE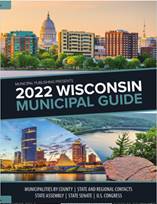 WAUKESHA COUNTY TO OFFER FREE TRAINING FOR 'CLEAN BOATS, CLEAN WATERS' INSPECTOR VOLUNTEERS (Click link for more)
---
JOB POSTING- Village Clerk/Treasurer- full-time position or flexible part-time job share for the Village of North Prairie. Deadline for application is until position is filled.
VILLAGE CLERK/TREASURER JOB DESCRIPTION- This link contains the General Statement of Duties, Responsibilities, Knowledge and Abilities, and other items.
---
FRIENDS OF NORTH PRAIRIE NATIVE GARDENS- A North Prairie volunteer resident formed 501(c)(3) Non-profit organization.
Their mission is to create butterfly gardens throughout the Village to help restore the monarch butterfly population.
For more information, please click on the FLYER link!
---
ALL RESTRICTIONS HAVE BEEN LIFTED FOR THE VILLAGE OF NORTH PRAIRIE PARKS! Village Parks are open for full use. Please understand that you will be using the equipment at your own risk. The play structures, picnic tables, restrooms and bleachers will not be sanitized on any regular basis.
Please be conscientious of those around you and continue sensible practices like social distancing and hand washing. Rather than having the government tell you what you can and cannot do, it is now up to each individual to make the personal choice on how restrictive they need to be. Please be smart, use your common sense, and respect one another at all times.
Waukesha County Guidelines to Safely Reopen during the COVID-19 Pandemic- It is important that all Waukesha County residents continue to do their part to mitigate the spread of the virus.
On Wednesday, March 24, 2021, Waukesha County updated its large gathering recommendation in the context of the COVID-19 pandemic. The new guidance advises that indoor venues may host events with no capacity limits when CDC guidelines are followed, with a focus on social distancing, separation of groups, and mask-wearing. The previous recommendation advised that a 50% capacity, or up to 250 individuals, could gather indoors. The outdoor event venue recommendation contivues to include no capacity limits when safety measures are in place. The recommendation applies to special events such as weddings and sporting events, not daily business functions.
The large gathering guidance has been issued as a recommendation, rather than an order, to allow residents to safely conduct business and other activities moving forward. Waukesha County reevaluates its large gathering recommendation at regular intervals.
---
Overnight Parking Regulations for the Village
Parking on any street in the Village is prohibited between the hours of 2:00 a.m.- 6:00 a.m. except with expressed prior permission by the Police Department. For more information, please contact the North Prairie Police Department at 262-392-2229.
---
Voter Registration Drives – Beware!
Voter registration drives will increase in 2020. These organizations are not affiliated with the Village of North Prairie and while most organizations are legitimate, this is an area of opportunity for scammers. Be aware that voter registration requires personal information such as your date of birth and driver's license number. Never give personal information to anyone you don't know and trust. The safest means to register to vote includes the following:
Online at MyVote Wisconsin: https://myvote.wi.gov/en-us/
By mail (complete the voter registration form): Voter Registration Form
Mail with Proof of Residency to: Village Clerk, 130 N Harrison Street, North Prairie, WI 53153
In-person at your Municipal Clerk's Office: Open M-F, 9am-5pm
In-person at the Village Hall polling location, 130 N Harrison Street, on Election Day 7am-8pm
All options require acceptable proof of residency. For additional information on acceptable Proof of Residency:
Click Link for more information.
---
John's Disposal Service changed the way bulky items will be collected each month. Residents are required to call John's Disposal at 888-473-4701 and schedule each bulk collection. Each residence will still receive up to one bulk items collection per month, however, residents must call at least 72 hours in advance of their desired pick-up date and options will be made available by office staff.
---
Village Snow Removal Policy and Contact information
It is the Village's responsibility to control/reduce the use of salt on the Village streets. We need your cooperation to drive at slower speeds during the winter months to ensure the safety of yourself and Village residents. A link is provided in the contact information to Waukesha County's website for additional information regarding the effects of using salt on Village streets.


---

Have you noticed the Village Incorporation banners on Main Street? July 10, 2019 was the Village's 100th anniversary!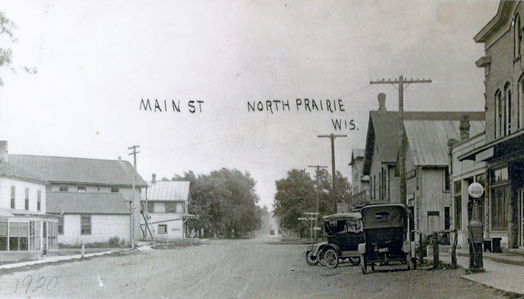 Proclamation for North Prairie: Happy 100th ANNIVERSARY OF INCORPORATION!
2019 is the year North Prairie is celebrating the 100th anniversary of its incorporation! The photograph was taken in 1920 and is looking south on North Main Street. The hill in the middle of the photo in the background is the hill leading up to Prairie View School.
Our community began in 1836 when Thomas Sugden, who was working on his land near Eagleville, took a walk to the top of the hill near Prairieville Elementary School and overlooked a beautiful "Prairie" "North" of his home. Later that year, Thomas returned with two other early pioneers, Mr. William Coats and Mr. William C. Garton. They were soon followed by Charles Ranous (often spelled Raynous) arriving in 1837 who built the first blacksmith shop and the first home in North Prairie.
Originally what was to become North Prairie was known as Brown's Corners located at the intersection of Highways E and ZZ. A stagecoach stop was located there on the NE corner of the intersection. The area population was stagnant until the arrival of the railroad in 1852. With the railroad coming through the area south of Brown's Corners, North Prairie Station became the hub of activity.
---
---

PROCLAMATION supporting the Federal Fair Housing Law.


---
Please walk your pets safely at night. Wear illuminated protective clothing and lights so that drivers are able to see you and your dogs.
---
NORTH PRAIRIE CEMETERY ASSOCIATON- If interested in contacting a representative regarding the North Prairie Cemetery, please contact the Village of North Prairie Clerk's Office at 262-392-2271.
---
Burning Permits
Open burning requires a burning permit. Permits must be obtained through the Village Office, as a signature is required (must be at least 18 years old). An Annual Permit (calendar year) is issued for $15.00 OR a two-week permit for $5.00.
Call 262/392-2271 for more information.
---
STORMWATER MANAGEMENT INFORMATION
Rain Gardens and Rain Barrels Reduce Runoff
(click on above for more information)
---

Have a question, comment, or criticism?
Use our Comment Form.
(Click here for form)
Have a complaint that needs to be investigated? Use our Complaint Form.
(Click here for form)
------------------------------------------------